Italian supercar brand under the umbrella of Volkswagen Group, Lamborghini, is aiming to cross the century mark in sales in the Indian market in 2023. Buoyed by the record sales performance in 2022, the automaker is hopeful to continue the momentum in 2023. Lamborghini India head Sharad Agarwal said that the automaker is targeting a three-digit mark this year, reports PTI. The automaker also claims to bring its first hybrid model to India after its global debut slated in the first quarter of this year. However, no specific timeline for the India launch has been revealed yet.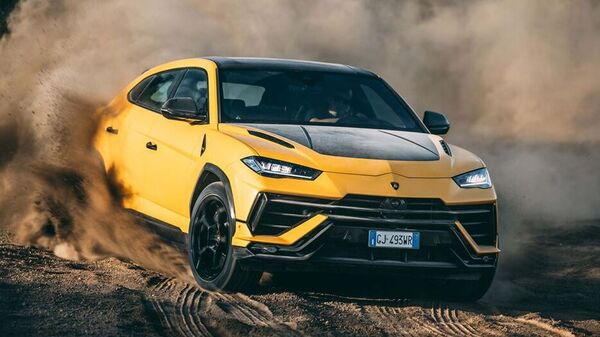 Lamborghini sold 92 cars in India in 2022, registering a 33 per cent growth compared to 2021, when it retailed 69 units, its previous best sales performance in the country. Before that, the best sales performance from the Italian brand was in 2019, with 52 units. In 2022, Urus SUV was the bestselling model for the brand in India, contributing more than 60 per cent to total sales.
Also Read : This is what Lamborghini Aventador replacement will look like
Now, with the upbeat sales performance last year, the auto company is hopeful about posting an even better sales record this year, possibly crossing the century mark. "Yes, that's going to be our direction. This is the question which has been coming for some time. We look forward to how do we achieve the three-digit mark and hit the century, maybe in 2023. We are hopeful that's the direction we are taking," Agarwal said.
Speaking about the sales performance, Agarwal also said that Lamborghini is not seeing any change or any slowdown pattern in its business in India. "In fact, we are starting the year with a very, very strong order book, and all of our models have an average waiting time of about 18 months in the country," he said, further adding, "So this clearly shows that the production allocation for this year is already sold out in the country. So we remain very positive about our growth."
Speaking about the future product launches from the brand, the Lamborghini India boss said that the company plans to hybridize its entire model range in the country, starting in 2023. "And then in 2024, we will bring the hybrid Urus as well as the new hybrid V10, which is going to be the follower of Huracan, a completely new car," Agarwal added. He further said that in 2022, India emerged as one of the fastest-growing markets for the brand in the Asia Pacific region and globally as well. Interestingly, the auto company posted its best-ever global sales record in 2022 with 9,233 cars, registering a 10 per cent Year-on-Year (YoY) growth compared to 2021, while sales in Asia grew by 14 per cent.
First Published Date: 30 Jan 2023, 09:27 AM IST
link