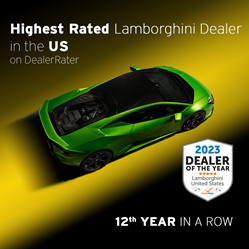 "We are truly honored to represent Lamborghini in North America and winning the U.S. award 12 years in a row reflects our long-term commitment to delivering excellence," stated John Hrad, General Manager

DALLAS (PRWEB)
March 09, 2023
Lamborghini Dallas has been awarded 2023 Lamborghini Dealer of the Year Award for the U.S. by DealerRater, a leading car dealer review and reputation management platform and company of Cars.com Inc. (NYSE: CARS). The Dealer of the Year Award recognizes auto dealerships across the U.S. and Canada that consistently exceed consumer expectations across all dimensions of the dealership experience, including speed, transparency, trade-in and financing experiences, and more.
DealerRater.com, which collected more than 1.1 million customer reviews in 2022, provides a dealership with real-time feedback on their customers' experiences. The dealers and their teams that excel are ones who adapt quickly to evolving shopping expectations and step up to meet consumer needs with outstanding service. This past year, Lamborghini Dallas stood out among its peers for providing a top-notch experience," said DealerRater General Manager Jamie Oldershaw. "Car shoppers' interactions with dealerships begin and end online, which is why it is imperative for dealers to think about how they provide exceptional service at every stage of the car shopping journey. The most successful dealers like Lamborghini Dallas understand the value of a quality virtual showroom that carries over into the in-store experience and then concludes with the shopper sharing their feedback with others through an online review. This approach is what differentiates our award-winners from their competition."
DealerRater helps dealers build their online reputation and connect shoppers with their top salespeople virtually to ensure that the experience is established before the shopper walks through the doors. Award-winning dealers encourage their car shoppers to leave reviews that will help build a dealer's online reputation and ultimately generate new customers.
Lamborghini Dallas has demonstrated consistently high ratings for customer satisfaction, placing it in the top of its class. "We are thankful to have been awarded the 2023 DealerRater Lamborghini Dealer of the Year Award for the U.S.," said Ken Ambrose, President and COO, Boardwalk Auto Group. "We have a great team here at Lamborghini Dallas with service excellence being our top priority. We also have the best clients and without them, this award would not have been possible!"
"Our Lamborghini clientele have an extreme attention to detail and the highest expectations which makes the significance of this award even more special for our team," added John Hrad, General Manager, Lamborghini Dallas. "We are truly honored to represent Lamborghini in North America and winning the U.S. award 12 years in a row reflects our long-term commitment to delivering excellence."
DealerRater Dealer of the Year Award Methodology

The DealerRater Dealer of the Year Awards are presented annually to the top U.S. and Canadian car dealers with 25 or more reviews based on categories such as customer service, quality of work, friendliness, pricing and overall experience, key drivers of repeat and referral business. The scoring algorithm considers the dealership's average DealerRater star rating as well as the total number of reviews written about the dealership during the 2022 calendar year.
Visit DealerRater.com for a full list of winners, U.S. and Canada.
ABOUT DEALERRATER

DealerRater, a Cars.com company, is a leading car dealer review and reputation management platform that empowers dealerships to efficiently grow their brands by accelerating, automating and amplifying positive review generation across digital channels. By offering a product suite that allows qualified dealerships to manage their digital presence and build and maintain their online reputation, DealerRater helps dealers drive new customer connections every day, achieve higher SEO rankings and, ultimately, generate higher-quality leads that close, faster.
Founded in 2002, DealerRater reviews cover 44,000 U.S. and Canadian dealerships, including a network of more than 5,000 Certified Dealers, that reaches an audience of more than 34 million consumers each month.
ABOUT LAMBORGHINI DALLAS

The all-new Lamborghini Dallas showroom includes an extensive range of factory Automobili Lamborghini exterior and interior finishes, along with intricate details that help make a dream build come to life. The newly updated Lamborghini service center makes Lamborghini Dallas one of the largest service centers in the country, including 20 service bays, a top-of-the-line alignment rack, and a tire installation machine. Lamborghini Dallas clients enjoy the confidence of knowing that their Lamborghini is in the hands of certified experts. Additionally, Lamborghini Dallas has a custom display of official Lamborghini merchandise that is available for purchase.
With the opening of the brand-new Lamborghini Dallas showroom in 2022, our clients' Lamborghini experience has been elevated. Lamborghini Dallas is part of Boardwalk Auto Group, one of the premier auto groups in North America. Lamborghini Dallas is located at 601 S. Central Expressway in Richardson, Texas. For more information visit LamborghiniDallas.com.
Share article on social media or email:
link