The television industry's advertising business had a rough first quarter, prompting analyst Michael Nathanson to cut his forecast for the full year of 2023.
The bright spot in the outlook is sports. The companies and networks that have strong sports-rights portfolios are doing better than those that don't. That makes keeping sports perhaps more important than growing streaming revenue, which declined in the first quarter and is expected to grow a bit slower than expected in 2023.
Nathanson calculates that total U.S. revenues dropped 0.7% in the first quarter, with traditional media — including ad-supported video-on-demand plunging 10.7% —which, excluding the COVID-ravaged second quarter of last year, was the worst quarter since 2009.
The ugly first quarter has Nathanson lowering his forecast for 2023 total U.S. ad growth to 3.6% from 5.4%. That includes lower estimates for ad-supported VOD and the Olympics. Nathanson notes that his new forecast calls for half the growth he expected in December.
Nathanson sees digital becoming a bigger share of ad revenue at traditional media companies as they ramp up streaming. For 2023, he expects digital ad revenues to be 19% of total ad revenue, up from 15% in 2022. 
"Of course, this is led by the drop in linear U.S. advertising revenues as the viewership declines continue to weigh on the heavier cable network portfolios," he said.
Looking at the traditional media companies' streaming businesses, Nathanson noted that NBCUniversal's streamer Peacock chalked up a 25.6% increase to $304 million in the first quarter. Fox's FAST service Tubi was up 25.9% to $170 million; Disney's Hulu was down 17.4 to  $731 million; and Paramount Global's Pluto TV was down 3.8% to $216 million. (Nathanson also covers Roku. He estimated that ad revenue for The Roku Channel was up 0.8% to $222 million.)
Nathanson noted that AVOD ad revenue was down 3.4%, way below his previous estimate calling for 4% growth. Those figures don't include the new ad-supported versions of Netflix and Disney Plus.
Of the traditional media companies followed by Nathanson, Disney has the highest share of its advertising revenue coming from digital at 37%. Just 6% of Warner Bros. Discovery has just 6% of its ad revenue coming from digital. 
But sports is even more important than digital in picking winners and losers among traditional media companies. That's good for Fox, NBCUniversal and Disney.
"Ultimately, we think those companies with a heavier sports portfolio should continue to outperform peers and take a bigger share of the total video advertising pie," he said.
In his latest forecast,  Nathanson calls for a 5% decrease in total U.S. television ad revenue to $83.5 billion, a bigger drop than his prior 4.9% forecast.
Nathanson sees broadcast net ad revenue down 7%, national cable down 7%, syndication down 5%, local stations down 10%, local cable down 16% and AVOD up 21.3%. Nathanson has earlier forecast 23.7% growth for AVOD. The full-year forecast includes estimates for Disney Plus and Netflix with commercials. He sees AVOD hitting 17.8 billion in ad revenues in 2023.
"We continue to believe that AVOD will be a growth category in the U.S. advertising market, as engagement shifts from linear TV to ad-supported streaming services, albeit at a slower growth rate on a core basis," Nathanson said.
Nathanson sees Hulu with a 26% share of the AVOD market in 2023, followed by Roku and Peacock at 12%, Pluto at 8% Tubi at 7%, Paramount Plus at 6%, Disney Plus at 5% and Netflix at 4%.
Looking ahead to 2025, Nathanson sees Hulu with a 21% share; Roku and Peacock with 12% shares; Netflix with 10%; Disney Plus with 7%; and Paramount Plus, Pluto and Tubi all with 6%.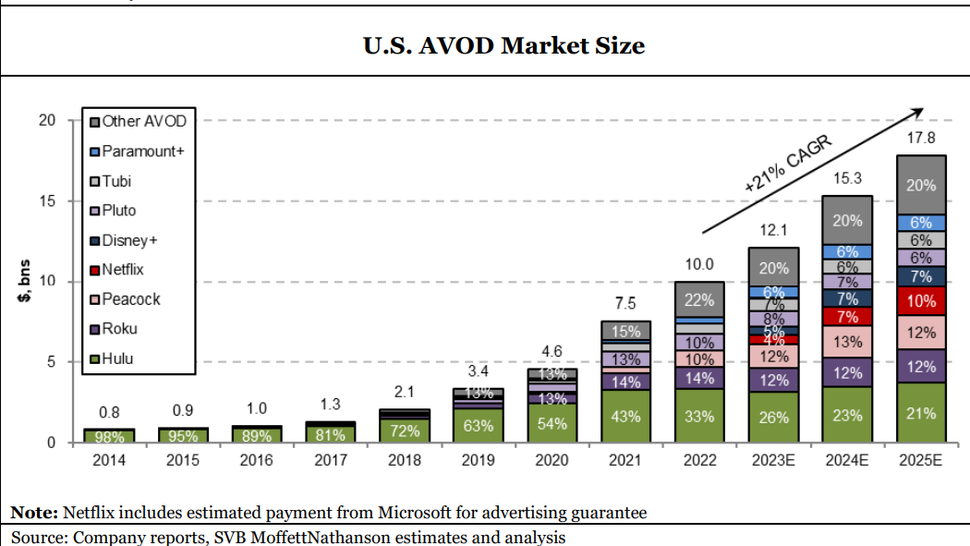 link