ROGERS PARK — A social equity pot dispensary is one step closer to coming to Rogers Park — but the plan requires an auto repair shop to leave its longtime home.
Perception Cannabis is looking to open at 7000 N. Clark St. at the corner of Clark Street and Lunt Avenue. A minority-owned company, Perception hopes to bring "fair-trade cannabis" to the neighborhood, CEO and co-founder Charles Cherqui said at a community meeting. The company needs a special-use permit from the Zoning Board of Appeals to open at the site.
The dispensary would take over a corner storefront that previously held a currency exchange. Plans also call for the razing of Lunt Auto & Tire, 1760 W. Lunt Ave., to make way for a parking lot for the dispensary.
Displacing the auto repair shop did not sit well with shop owner Fabricio Henao and fellow neighbors. But after finding a new home for the business and striking a deal with the landlord to help finance the move, Ald. Maria Hadden (49th) signaled her support for the dispensary in her weekly newsletter.
But Henao said the move is going to cost him loyal customers and come with a significant personal cost to build a garage — and his landlord has backed down from compensating him for the move.
"I was a good tenant," he said. "I don't want anybody's pity. I'm a businessman. But to start from zero for a small company? I mean, we're a family-owned business."
Plans for Perception Cannabis came into clearer focus at a March meeting where company officials said the auto garage behind its proposed location would be torn down in favor of about 10 parking spots for the dispensary.
Henao said he wasn't made aware of the community meeting and only learned of the plans through customers and Facebook friends.
Lunt Auto & Tire has been in business for more than five years. But after its five-year lease ended at the end of 2022, the business was moved to a month-to-month lease, with Henao's landlord saying she had plans for the property, Henao said. He thought he had signed a 10-year lease, but the deal was for five years with an opportunity to renew. Henao didn't know he had to opt in to the renewal before his current lease ended, he said.
After Henao learned he had to leave, he found a garage at 3034 N. Central Ave. in Belmont Cragin, he said. The move will cost about $35,000 and is being financed by a business loan, Henao said. This time, he is buying the auto garage property.
Henao hopes to be operational at the new location by the end of May. But even with that spot secured, Henao said there's no guarantee he will resume his previous levels of business.
"This is not like moving from your house where you take your stuff and move out. There's heavy equipment," he said. "We'll lose maybe 90 percent of our clients because we won't be close by."
A survey conducted by the 49th Ward office shows more than 75 percent of nearly 500 survey respondents were in favor of the Perception Cannabis proposal. But some feedback on the survey included displeasure in Lunt Auto & Tire being forced to relocate.
"Many of our constituents, understandably, expressed concern that this proposal would displace a long-term, minority-owned local business in the ward," Hadden said in her newsletter.
Hadden said she worked with the landlord and Henao to find a deal that worked for all parties. The landlord agreed to pay Lunt Auto & Tire two months worth of rent as a relocation fee, and Hadden said she helped the business secure a license for its new location.
But Henao said his landlord is now not promising to pay the relocation fee because he is not technically being evicted.
"We're in a situation where we need all the help we can get, but it looks like we're not going to get it," he said.
The landlord could not be reached for comment. Hadden said plans to raze the auto garage for parking for the Clark Street storefront predated Perception Cannabis' interest in the space.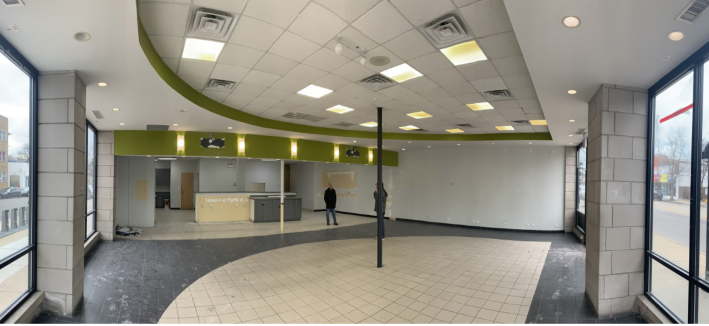 Perception's prospective home is a 3,400-square-foot store that would have a reception and security desk, ordering kiosks, retail display cases and point-of-sale stations. An exit would be installed along Clark Street, company officials said.
The company holds a social equity cannabis license, which are given to companies whose majority owners hail from communities most impacted by drug criminalization. Cherqui, the company's CEO, is a theoretical physicist who lives in Rogers Park.
Perception is one of three dispensaries looking to open on a roughly 1-mile stretch of Clark Street near the border of Chicago and Evanston.
The building sits across from the home of the Wild Onion Market co-op. which is working to open after years of planning.
Hadden said Perceptions' proposed location would be a boon for Clark Street and help achieve a neighborhood goal of having a locally owned, minority-controlled dispensary in the area.
"The dispensary, coupled with the opening of the Wild Onion Market, creates the potential to anchor the area and encourage additional economic development throughout the corridor," she said in her newsletter.
If it is granted city approval, the dispensary could open by late summer or early fall, Cherqui previously said.
Listen to "It's All Good: A Block Club Chicago Podcast":
link