Founded by Ferruccio Lamborghini back in 1963, the Volkswagen Group-owned outfit is no stranger to hybridized powertrains. Remember the Asterion plug-in hybrid V10 concept from the 2014 Paris Motor Show? How about the Aventador-based Sian FKP 37 hybrid supercar, which stores energy in a supercapacitor instead of a lithium-ion battery?
Ferrari's worst nightmare stepped up its game in March 2023 with the unveiling of the Revuelto, the plug-in hybrid V12 replacement for the Aventador. Not only does it feature a whopping three drive units, but also shames the SF90 series with 1,001 horsepower compared to 986 electrified ponies.
The Huracan – which is Lamborghini's most commercially successful mid-engine production vehicle (the 20,000th example was built in April 2022) – is also getting an electrified successor. But as opposed to the naturally-aspirated Huracan and Aventador, the newcomer will embrace a twin-turbocharged V8 engine. It's reportedly good for 10,000 revolutions per minute, and the spinny lads allegedly kick in at 7,000 rpm.
A different engine from the Audi-Porsche unit of the Urus, therefore. Speaking of which, the sport utility vehicle can't escape hybridization either. But as opposed to the V6-powered Bentley Bentayga Hybrid and Flying Spur Hybrid, the Raging Bull of Sant'Agata Bolognese employs a V8 in the hybridized Urus. Expected to premiere in the second half of 2023 for the 2024 model year, a near-production Urus PHEV has been recently spotted just outside Lamborghini's factory in Italy.
The prototype in question shows redesigned headlights, taillights, and a charging port door on the driver-side rear fender. The carparazzo who filmed it also spotted a second prototype on the very same day, leaving the factory to muted yet burbly sound of a twin-turbocharged V8 engine. Codenamed EA839, said lump cranks out 657 horsepower at 6,000 revolutions per minute and 627 pound-feet (850 Nm) at 2,300 through 4,500 revolutions per minute in the ICE-only Urus S. Based on the sounds made while upshifting, we're also dealing with the very same ZF-supplied automatic of the Urus S and Performante.
Around 700 ponies on full song from the Urus PHEV – or whatever it will be called – is a certainty. At the present moment, Zuffenhausen's Porsche makes the most powerful plug-in hybrid V8 automobile of the Volkswagen Group. That car is the Panamera Turbo S E-Hybrid, which rocks 690 horsepower at 5,750 revolutions per minute and 642 pound-feet (870 Nm) between 2,000 and 4,500 spinnies. The Urus PHEV is expected to replace both the Urus S and Performante in Europe as the 27 member states and previous EU member United Kingdom prepare for July 2025's Euro 7 regulations.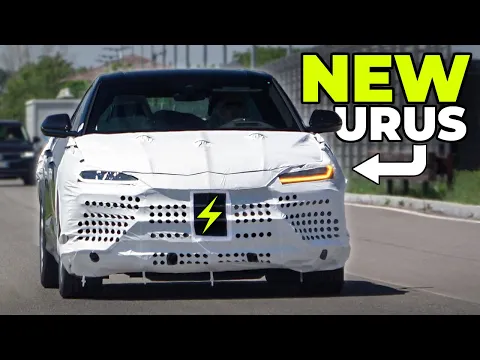 link