Compact and mid-size pickup trucks have made a big comeback in the last five years with all-new entries like the Ford Maverick and the quirky Hyundai Santa Cruz joining the fold. But the Toyota Tacoma has been doing it for decades now and even after all this time it's still one of the most versatile and robust trucks you can buy.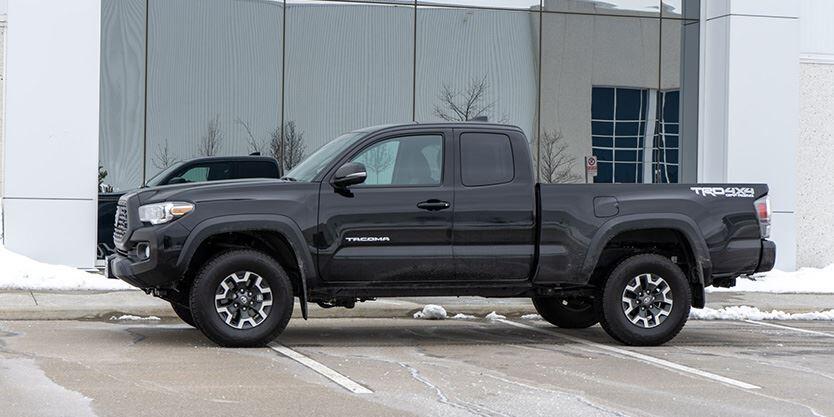 Over the years the Tacoma has gained legendary status. A reputation it's garnered from doing duty all over the world in some of the most inhospitable and punishing environments. It's been called indestructible and it retains its value long after the warranty runs out meaning that finding a "deal" on a used one can be tough.
A sound principle which Toyota has clearly employed with the Tacoma is "if it isn't broken, don't fix it". It's why the truck has barely changed over the years and can trace its underpinnings back to the second-generation Tacoma, which was introduced in 2005. In automotive terms the Tacoma is ancient but it works so well that any drastic changes would have likely driven Taco loyalists directly to Toyota's headquarters with pitchforks and flaming torches. Taco owners stick by their trucks and there are large communities and discussion forums that have built up around it.
Typically the cars loaned to us to test drive are loaded with all the optional extras and the kitchen sink, which is why I was pleasantly surprised to find my tester was a humble Access cab TRD Off-road with a 6-speed manual transmission (that's right, you can still get a manual Tacoma). It's about as bare bones as a Taco gets but that means it boasts the highest towing capacity of 2948 kg (6499 lbs) and the second highest payload of 571 kg (1259 lbs), bested only by an Access cab truck with the automatic transmission.
Access cab Tacomas come with the 6-foot bed (the 5-foot option is not available) and rear suicide doors that open up to reveal a rear seating area best reserved for child seats or pets. I tried sitting back there and while the legroom wasn't the biggest issue, it was the total lack of seat comfort and the upright seating position that became agonizing after just a few minutes. It's a good thing then that the bottom cushion flips up providing extra space for cargo. If you need to carry passengers with any regularity, a Double Cab Tacoma is a necessity.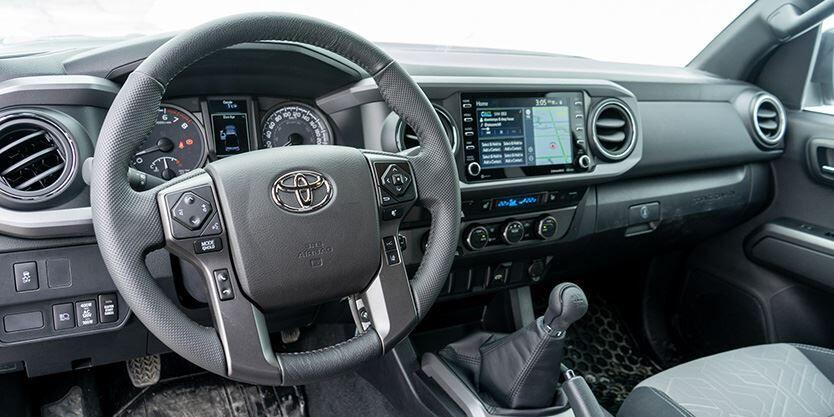 It's actually pretty well equipped for a base model with Toyota Safety Sense, that includes a pre-collision system, automatic high beams, lane departure alert and dynamic cruise control. It has an 8-inch touchscreen infotainment system with a native nav system and wired Apple Carplay and Android auto connectivity. You also get heated seats and dual-zone climate control and because this is the TRD Off-road trim you get off-road tuned Bilstein shocks, and an off-road body kit.
All Tacomas sold here are four-wheel drive and this manual Access cab model gets a part-time selectable system with a rear locker, and a 2-speed electronic transfer case. Models equipped with the automatic get the Multi-terrain select system and crawl control.
But arguably the best bit about this Tacoma for me was its manual transmission. It's a configuration not everyone is going to pick but it made it an enjoyable truck to drive. The stick itself slots precisely into gear and the clutch is reassuringly heavy with good feel and a firm biting point. If nothing else it helped me fantasize about driving a big rig, something I've always wanted to do. It also gives you a lot more control especially on a trail where this Tacoma with its 9.4-inches of ground clearance and tough-as-nails 4×4 system is ready for most any terrain you can throw at it.
A 3.5-L V6 is the only engine choice. It makes 278 hp and 265 lb-ft of torque and has also been proven just as indestructible as the rest of the truck. It's not going to shove you back into your seat but there's still enough power to get the Tacoma moving rather quickly and passing slower cars is never an issue.
The 6-foot bed has multiple adjustable tie-down points and is easy to access with built-in steps in the rear bumper.
The Tacoma is not easy on fuel, and that's a downside of its aging powertrain. The manual might be fun but trying to get anything under 13L/100 km in mixed driving requires a lot of effort. The automatic fares better in this regard.
On the inside the Tacoma features a mix of hardwearing plastic surfaces and some soft-touch points on the door panels. It doesn't get the new infotainment system that's been rolling out in new Toyota vehicles which is a bit of a shame.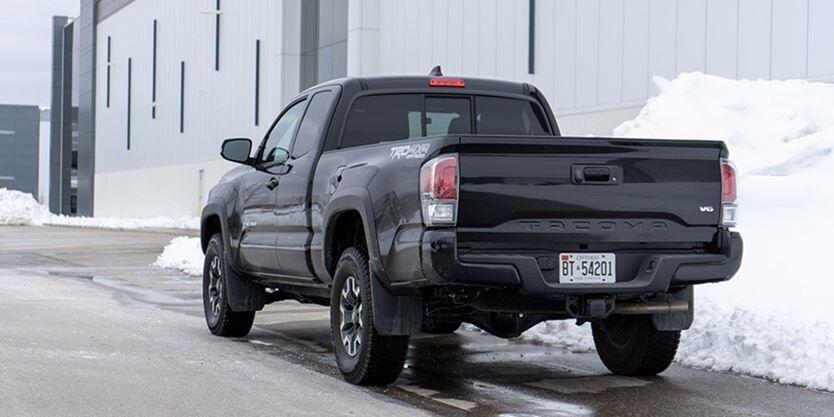 Among the competition, there are entries with more modern turbocharged powertrains, more features, and better in-vehicle tech but if you want a bullet-proof truck that's just really good at doing truck things with the best resale value on the market, the Tacoma is hard to beat.
This vehicle was provided to the writer by the automaker. Content and vehicle evaluations were not subject to approval.
link