The Toyota RAV4 doesn't really need an introduction. It's the best-selling compact crossover in Canada and it's held that position for almost a decade. The reasons are simple. It's well made, dependable, and efficient. It's also really good value and the Toyota badge promises reliability, which on its own is an attractive proposition.
Chances are if you're in the market for a new crossover, the RAV4 has come across your desk, but with 16 different permutations it can still be difficult deciding on how best to spend your money.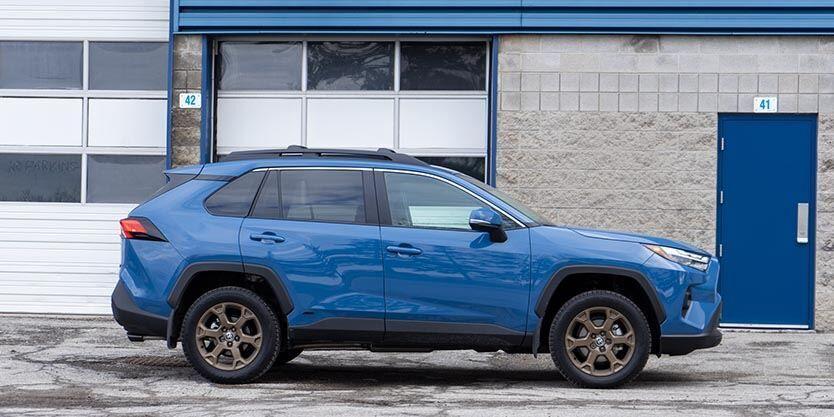 All 2023 Toyota RAV4 trims come with Toyota Safety Sense 2.5 and a new version of Toyota's infotainment system that's a big upgrade over the old one. There's also the new limited-edition Woodland trim available on the XLE Hybrid that we tested here and it adds some pretty sweet bronze wheels wrapped in all-terrain tires, an off-road tuned suspension, roof rack cross bars, LED fog lamps, black exhaust tips, and "Woodland" badged floor mats and cargo tray.
The Woodland trim is ultimately an appearance package, but as far as those go it's a good one. And while the A/T tires and off-road suspension tune will give you some more confidence on mucky ground, this RAV4 isn't intended to be a true off-roader. But for $2190 it is a good amount of kit and the bronze wheels combined with the Cavalry blue paint job made this RAV4 stand out.
The real story here is the RAV4 Hybrid. Toyota makes this fuel sipping powertrain available right from base, which means that you don't have to spend a lot of money to get amazing fuel efficiency. The powertrain itself isn't anything new but it's been upgraded over the years and is only about a $2000 premium over the regular gas models. You get more power (219hp vs 203hp) but more importantly, tailpipe emissions drop drastically.
This hybrid powertrain is extra efficient because it uses a small electric motor on the rear axle to provide all-wheel drive without any mechanical connection to the engine. I also found that in this 2023 RAV4 I was able to stay in EV mode for longer and at higher speeds. The biggest advantage of driving a hybrid like this is that it requires zero special treatment or driving techniques. It doesn't need to be plugged in and you'll never run out of battery. The system works quietly in the background and its seamless.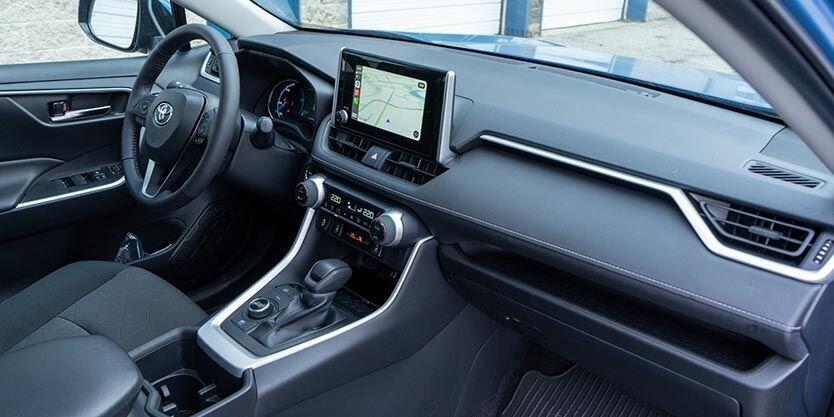 That's not to say there aren't any downsides. The 2.5-L 4-cylinder is buzzy and coarse. It's an unrefined power unit in an otherwise refined vehicle and it sticks out like a sore thumb. It's there to provide power and nothing more. You do get used to it after some time behind the wheel but I can understand why some people are hesitant about hybrids.
like this it becomes a bit of game to score the lowest fuel consumption numbers without resorting to hardcore hypermiling techniques. Even if you drove like a maniac everywhere you went, chances of seeing over 8L/100km are slim.
After a week my RAV4 hybrid tester registered an average of 6.2L/100 km and for a compact SUV chock full of modern amenities and all-wheel drive, you really can't do better unless you take the next step up into a plug-in hybrid. But that will cost you much more and you have to plug it in every night to really take advantage of it, so it can also be less convenient.
Outside of the powertrain the RAV4 is a great little crossover for family duty. It has a large usable cargo area, and the rear seats are spacious enough for taller adults.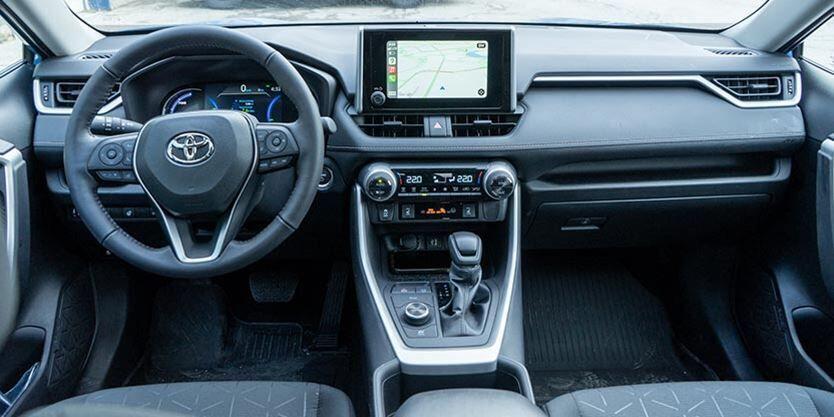 The driver is treated to excellent ergonomics, real physical buttons for all major controls and an easy-to-approach layout that anyone will be able to figure out in a short time. The new infotainment system has nice visuals and is quicker to respond but still falls behind the systems found in Hyundai/Kia and Stellantis products. I'm still a big fan of the large textured knobs in the RAV4 for the climate control and stereo volume.
Driving the RAV4 is uneventful to say the least. It rides well, and it's quiet inside, and it has competent road manners but there's nothing really class-leading to report. Likewise this isn't a crossover that provides any rewarding dynamic qualities, but it also doesn't claim to. For a more rewarding driving experience look to the Honda CR-V.
What the Honda does not do, however, is provide you with the level of value the Toyota does, or the amount of trim choices. The Toyota is also more efficient and since the Honda CR-V hybrid is a top-trim only proposition you'll have to spend well over $50k to get one.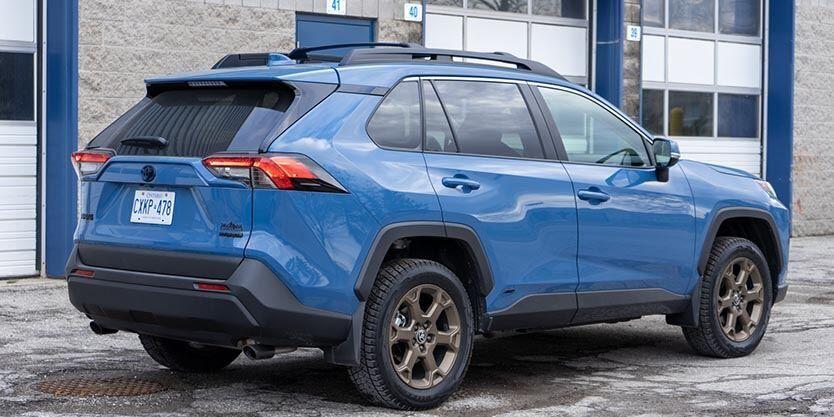 So in the price for content department the RAV4 is difficult to beat and that's reflected in its sales numbers. It's also got that dependability factor that's solidified customer trust over the decades. Even with new competition always arriving, the RAV4 is a highly recommended buy and it should continue to hold its top spot in the market for a while longer.
This vehicle was provided to the writer by the automaker. Content and vehicle evaluations were not subject to approval.
link